The History of Chuck Paine's Yacht Designs
Chuck Paine began designing sailing yachts professionally in 1971 as an apprentice to Dick Carter of Boston, and set up his own design company in 1974.  C. W. Paine Yacht Design, Inc. operated from then until 2008, launching well over 1000 yachts with a combined value exceeding US$350,000,000.  From the beginning his firm specialized in the high quality, high-priced end of the trade, designing both sail and powerboats, though it is probably best known for its offshore oriented cruising yachts.
C. W. Paine Yacht Design Inc. were leading American cruising yacht designers and have become one of the world's most prestigious design names. Their early series of small oceangoing yachts with ladies' names (Frances, Leigh, Sarah, etc.) were the springboard from which many of the world's most capable and luxurious sailing yachts evolved.
Beginning in 2009, Chuck has founded a new and smaller company, Chuckpaine.com LLC, which today focuses upon the design and construction of small but extremely elegant daysailors and yacht club racing fleets for those who wish to simplify their leisure lives in style. Lessons derived from his lifetime of designing yachts can be studied by reading his two popular books on the subject:  MY YACHT DESIGNS and the lessons they taught me– available as a digital book, and THE BOATS I'VE LOVED- 20 classic sailboat designs– available in both a digital and print version.
Morris Yachts
Morris Yachts of Maine have to date built 199 of the world's highest quality yachts to Paine designs. These yachts were all individually customized for their owners, unusually well constructed, expensive, and worth every penny.
The British Connection
The Paine office was the designer of eight of Britain's most popular offshore-oriented designs, from which over 500 yachts were built by two Southampton area yards. These were the British FRANCES 26, the VICTORIA 30, 34 and 38, and the BOWMAN 40, 42, 45 and 48.
The Paine Keel
Chuck Paine invented the Paine Keel in 1981. It combines a very low center of gravity with minimal propensity to sideslip. Most Paine designs after this date were fitted with the Paine Keel.  It has been widely copied by other designers.
The Bermuda Series
Chuck's "Bermuda Series" were intended for long distance cruising at high speeds. Their hulls had very long waterlines and were unusually stable thanks to the PAINE KEEL, and many were fitted with watertight bulkheads so as to be virtually unsinkable.
Bermuda Series designs emphasized safety, minimal heeling, private bathrooms with unlimited fresh water, and other luxuries. Naval architecture is a branch of "real" architecture and that involves interior design. The Paine designers created some of the most splendid interiors ever contorted to fit into the hull of a yacht. Paine designed yachts had all the comforts and luxuries of a waterfront home.
EVOLUTION was one of the early Bermuda Series yachts, built in Holland of aluminum. Her pilothouse contains a watch-stander's berth, autopilot controls, radar and a complete navigation/ communication complex and the sail controls come to winches and line bins beneath those (what shall we call them?) porches? aft of the pilothouse. There's a floodlight overhead in each porch to make sense of it all at night. With the autopilot steering most of the time and all of the reefing lines brought to this area through conduits, you could pretty much cross an ocean without ever donning the foul weather gear. You go outside and steer manually when it's gorgeous, like this. She now sails out of Auckland, New Zealand.
Perfecting the Pilothouse
One aspect of yacht design that particularly interested Paine was the transition area between the deck and interior. With the support of scores of clients, Paine's office explored just about every possible shelter (hard dodger, pilothouse, porch- call it what you will) twixt cockpit and belowdecks, creating scores of appealing transitions between out- and indoors with minimal impact upon the cabins below whilst maintaining absolute structural integrity.
Larger Yachts
As the office grew in reputation skilled designers were added to keep up with the increasing demand. Large yachts like the 125 ft. KAORI required hundreds of drawings and thousands of hours of engineering. With four highly experienced full-time designers and one office manager, the Paine office undertook yachts of ever larger size and complexity.
Greener Yachts
Global warming, the environmental movement and the ozone hole began to inspire customers. Not only were they attracted to Paine's office because his refined hulls required less fuel to push through the water under power, but as more and more luxuries became standard fare aboard yachts Paine's engineers responded to the energy trapped in wind and sun as an appropriate way to power a yacht. Protection from the ever more powerful sun also became an integral part of the package.
Solving the Dinghy Problem
The dinghy is an important and frequently overlooked aspect of life afloat. Paine has done whole designs that revolve around housing the dinghy. One Australian-built aluminum 63 footer had a "beach" in place of an afterdeck, up which the dinghy was power-winched over rollers as you would haul it onto a boat trailer. The 65 footer below demonstrates how the hydraulically powered radarch makes launching and retrieval a pushbutton process.
Racing Yachts
Increasingly, Chuck Paine's sailboat lines became known for their seakindly manners and speed. It awaited a bit of the old competitive spirit for his yachts to begin collecting silverware. As cruiser/racers with their draft restrictions, none had the knifeblade keel with a torpedo slung at the bottom that are a necessity in Grande Prix racing. But given offwind courses like the Bermuda Race, Transatlantic, Transpac and most of the other truly fun races, the poor fellow with his ten-foot draft and a handicap rating to match often found himself outclassed by Paine designs that looked like yachts and sailed with crews whose names the owners actually knew. Clients sought out the office for Racer/Cruisers as opposed to Cruiser/Racers.
The first of these was REINDEER V, followed by FIREFLY, POPPAEA, NEXT BOAT, ERICA and others that will be winning races for generations.
What the Paine office added to the concept of the racing machine was longevity. Add a few pounds of carbon fiber in the right places and racing sailboats can last for decades. Today's pure racers are throwaway boats, obsolete and abandoned by their owners after a couple of seasons. What a waste! Paine yachts not only began their lives in the winners' circle, but they kept on winning races, year after year.
The Paine racers were designed simply to go fast through the water, rule be damned, and to last a long, long time. At the point when the expensive throwaway is put out of business by the latest rule change, Paine's racing yachts acquired an old-age allowance and a new set of sails and were right back at the front of the fleet.
Spirit of Tradition Designs
The "Spirit of Tradition" class of wooden racers has become a forum for design trends worldwide. For owners discouraged by cutthroat racing in yachts that depreciate to nil value in the twinkling of an eye this is the sensible alternative. Even if you're not doing well in the racing you get to see visions of beauty like this sail by you pointing high, footing fast and looking scrumptious.
Unlike your common stripped-out racing machine, the owner of such a yacht downs his celebratory beers in a sitka-spruce lined interior of light weight and unrestrained elegance thinking, the world is full of fools, and I am clearly not one of them.
Designing for Comfort Afloat
Fine food and wine are part of the modern live-aboard experience. Gone are tiny iceboxes and smelly stoves and toilets that spit back at you.  Attention to every detail of the owner's individual preferences yielded galleys that, while always yacht-like, offered all of the modern conveniences of a fine home.
Paine's later owners had that heady combination of money and taste and love of life that counsels you to spend your rare spare time on the water.  Sure they could live out their lives up in that corner office worrying about when their investments would rack up the next million (or the next big loss). Many preferred to hire the lads at Paine Yacht Design to exercise their expertise on their behalf, and became the owner of something truly wonderful, like these examples…..
BOAT OF THE YEAR AWARDS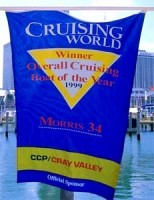 Cruising World Magazine selects the best new cruising yachts every year for its "Boat of the Year" issue. Since the inception of this prize, Paine Yacht Design has won the award four times- more often than any other design firm in the world.
High-Latitude Explorers
Think you've seen it all? At the turn of the 21st century clients began building ice-strengthened aluminum yachts packed with four inches of insulation and triple-glazed windows and high powered heaters and exploring places of unimaginable beauty and remoteness.
Historical Replicas
There were many fine yachts designed in the last century. If their builders had had the materials we have today they would still be around bringing joy to their owners. But we do have those materials today, and Chuck Paine relishes the opportunity to honor the work of design genius gone before by creating yachts whose appeal will endure for generations.

Perfected Herreshoff Alerion
A New Beginning
After four years of semi-retirement Chuck has formed a new company, Chuckpaine.com LLC, which will concentrate upon the design and construction of small but exceedingly elegant sailboats. They consist of improved versions of the most timeless of his classic designs in addition to new ones that are introduced at the rate of one or two each year.
FRANCES  is a 26-footer that has truly stood the test of time. It is true that the original design is dated, her performance somewhat hampered by an old-fashioned and shoal draft keel. So he has revised the hull lines, making her slightly larger in all dimensions and fitting a fully up-to-date and deeper long-keel. While the flush-decked version will always be the one to turn heads, the new version has a short deck house with full headroom for a six-footer. Study plans are available for US$ 25.00, Full plans without loftings or offsets for US$ 675.00 and full plans including a full-sized mylar hull lofting for US$ 2500.00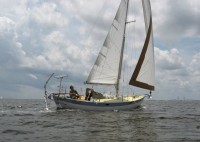 CAROL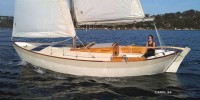 is a 24-footer that is in many ways a scaled-down FRANCES. She is a fine performer and as seaworthy as the proverbial corked bottle. She offers sitting headroom unless you are unusually long-waisted, with berths for as many as four persons. Study plans are available for US$ 25.00, Full plans without loftings or offsets for US$ 575.00 and full plans including a full-size mylar hull lofting and right to build for US$ 2250.00
ANNIE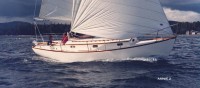 2 is a revision of my much-loved ANNIE design, built for many years by Morris Yachts. The design has been improved by the substitution of an entirely modernized keel and rudder, as well as a new sailplan. The design has full headroom for a six-footer. Numerous interior configurations are included in the plan set, all of which have been built and tested. Study plans are available for US$ 25.00, Full plans without loftings or offsets for US$ 875.00 and full plans including a full-size mylar hull lofting and right to build for US$ 4000.00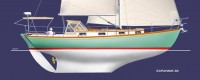 EXPANNIE  is, as the name implies, an expanded ANNIE.  At 36 feet in length and of moderately heavy displacement she is large enough to cruise anywhere in the world. Of all of the new offerings she is the one whose design is only partially complete, so we are seeking a customer who would be willing to pay to complete the design for a fee that would range between US$30,000 and $35,000. Study plans are available for US$ 25.00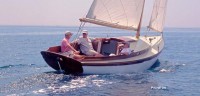 The PAINE 26 is a 26-footer based upon the earlier Herreshoff replica shown. Revisions to the earlier design include entirely modern WEST-system construction (the prototype was plank-on-frame), a more modern keel and rudder, taller rig with an aluminum spar and permanent backstay, and a unique transom door for swimming and man-overboard self-rescue. There is plenty of sitting headroom everywhere and a cleverly designed swing-up hatch and "pop-top" canvas enclosure that provides full headroom in this area. Study plans are available for US$ 25.00, Full plans without loftings or offsets for US$ 675.00 and full plans including a full-size mylar hull lofting and right to build for US$ 2500.00
The PAINE 14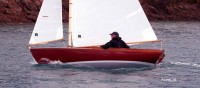 is a slightly scaled-down Herreshoff 12 ½ with a fin keel for more modern performance. It is in every possible way optimized for trailering behind a standard-sized automobile. Her mast is of carbon fiber and requires no stays, so it is as easy to deploy as that on a Laser dinghy. Paine has invented a nifty way to attach the sails to the spars very quickly… no tedious fitting of little slides to little tracks, so the boat can be launched and gotten going in a matter of minutes. Make no bones about it, though, with half of its weight in lead ballast and lots of beautifully varnished mahogany trim, this is in every respect, including its price and the need for yearly maintenance, a true yacht. But you don't need a mooring or a marina slip with this one, just a garage. Her cruising grounds are anywhere you might like to sail that is reachable by road. Study plans are available for US$ 25.00, Full plans without loftings or offsets for US$ 475.00 and full plans including a full-size mylar hull lofting and right to build for US$ 1500.00  A custom-designed galvanized Triad trailer with integral tongue extender will enable the yacht to be launched on reasonably angled ramps. Its price is US$3000.00 f.o.b. Raleigh, SC.
The PAINE 16 is my proposed answer to the question, "What would Nathaniel Herreshoff have done if he'd designed the Herreshoff 12½ today?  Nat always took advantage of the latest in naval architectural thinking that was available in his time, and often experimented with new ideas to push that horizon forward. When he designed the Herreshoff 12½ in 1914, fin keels and spade type rudders were untried, carbon fiber and epoxy-encapsulated wood unimagined, and the research that perfected the shape of hydrofoils (keels and rudders) a decade into the future. My adaptation of the venerable and much-loved Herreshoff 12½ has a fin keel, unstayed carbon fiber mast and separate rudder for more modern performance. No plans or right to build are available for this yacht- it is merely a mental exercise which might interest my readers.
The YORK 18  The YORK 18 is the newest in our growing series of elegant daysailors. Her design was inspired by the instant popularity of the smaller and highly regarded PAINE 14. But being much larger, she can take a whole bunch of your friends sailing in comfort and speed, and in the safety of an unsinkable hull with exquisite sailing characteristics. Michael York of York Custom Yachts in Rockland, Maine, is building these supremely high quality 18-foot Herreshoff-inspired sailing yachts in fiberglass with extensive varnished teak trim. The first of these fine new yachts will be available in June of next year. These high performance keelboats are classy, valuable, fast, unsinkable, trailerable and owner- launchable, and just the right size to take home and store for the winter, avoiding the bother and expense of a boatyard. The draft is only 2′ – 9″ so you can launch and retrieve her yourself, if you wish, or stow her on a boat-lift if you live on a lake or a canal in Florida.
The PAINE Perfected Alerion I was hired in 2015 to make improvements to Nat Herreshoff's Alerion, and to develop computer faired lines and loftings. Like many other boat fanatics I loved this design from the moment I first saw Nat's original at Mystic Seaport. But after much study I discovered that the original design had some serious flaws, being very tender and hard to steer.  Rumor has it that Nat added over 600 pounds of internal ballast to his to attempt to stiffen her up, but that was not enough. When he got a sistership commission he designed Sadie, now in the Herreshoff museum in Bristol, RI.  He made Sadie 5″ beamier, heavier, and lengthened the bow to bring the jibstay and thus the center of effort further forward. While this improved matters the design still was very tender and still developed way too much weather helm. With all this history as my guide, I used Sadie's beamier hull and a 21st-century keel to make her reassuringly stable, and my 40 years of study to perfect her helm balance. And it worked- this is truly a perfected Alerion/Sadie.