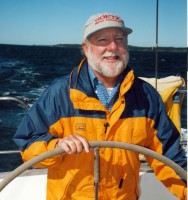 "Where are these new designs coming from? We thought Chuck Paine had retired."
Many of the readers of this page will be aware that I retired from full-time yacht design in 2008. By that time C.W. Paine Yacht Design, Inc. had grown to be a large firm by yacht design standards, with an annual gross approaching $400,000, five employees each with a CADD station and software licenses and company matched 401(k) plans and paid vacation and sick leave and annual bonuses. It had become, without my knowing it at the time, "too big not to fail".
Meanwhile Mr. Bush was fighting two distant wars and giving his cronies tax cuts at the same time and deregulating the financial industry- after all, the free market would police the banks, right? When the inevitable crash came, it came fast- in the beginning of October, 2008 we had signed contracts on more design work than ever before in our company's long history. By the end of October, 2008, every client- including two billionaires- had cancelled his order. "Yeah, I know we have a contract. But the world has collapsed- so sue me!" Four full-time and two part-time employees, with collectively five wives and seven dependent children, were put out onto the street.
I have to admit, though, that after the initial shock I enjoyed my forced retirement. I've travelled the world and spent much of my time drawing and painting. I teach painting occasionally, and even manage to sell my artwork, which most artists don't, and make an income of perhaps one-tenth what I did as chief designer of a yacht design firm, which is enough.
Recently, though, the old itch has returned. I see as-yet unborn yachts in my sleep, crying "let me out." And a few of my old boatbuilder friends have asked me to design "just one more." And fool that I am, I have said yes. The York 18, Paine 15 and Bella Luna are the results, and I've just been asked to do another. I was also hired by an enthusiastic new owner to redesign the mast and sailplan of my ten-year old Paine 25, and felt obliged to accept. And as you probably are aware of, my designs were burning up the race courses on the East Coast during the summer of 2017.
So yes, I'm designing yachts again. Nothing very large- I have to do all the drawings myself. And no motorboats- I just don't know enough about them. And I'm 73 years old and who knows which breath might be my last? If you want something that looks like it was designed by Nat Herreshoff, but with a modern keel and rudder, and if you're patient enough to put up with a half-time designer, and above all if you are an ethical person who will actually pay my modest fees, I might just do it for you.
Better yet, though, buy one of my paintings which you'll enjoy year-round- unlike your boat- and it'll cost you a lot less money. www.painefineart.com.
Chuck Paine