HERRESHOFF 12½ DERIVATIVE
PAINE 25
DIMENSIONS
LOA : 25' 6"
LWL: 20' 3"
BEAM: 8′ 1"
DRAFT: 3' 6"
DISPLACEMENT: 5525 lb
BALLAST (LEAD): 2470 lb
SAIL AREA: 211 sq ft
D/L RATIO: 297
This 25- footer is our most traditional Herreshoff-inspired design to date, even to its plank-on-frame construction. These timeless designs endure literally for generations, for once built, they are passed down from one generation to the next. The first boat to the design was originally built with heavy wooden spars and without a permanent backstay- decisions made by the builder that never set well with me. But a new owner has come along who has chosen to fit a carbon mast and the all-important backstay, making her the perfect combination of a tried and true hull shape and the very latest technological improvements. If you're looking for a yacht whose pedigree will insure she will never go out of style, with a cozy little interior that would give you just enough space to spend a night or two aboard, this might well be the one.
This is the first and only one of over 200 Paine designs that was designed for plank-on-frame wooden construction. She would easily adapt to WEST system if desired, and her rig would be further modernized if fitted with a roller-furling jib and Paine DVT battens, making it unnecessary to go to the foredeck to set and furl the jib. She draws only 3 1/2 feet and thus would be well suited to Florida or the Bahamas, and her lead ballast extends over the areas of the keel which might make contact with the bottom.
This is one of the best- looking designs in a fleet of yachts designed by my firm that stretched to over a thousand in number. You'll look good sailing this one, and you'll enhance the view in any harbor you visit!
This design is featured in both of my recent books; MY YACHT DESIGNS and the Lessons they taught me, and THE BOATS I'VE LOVED- 20 Classic Sailboat Designs by Chuck Paine. Both are beautiful, full colored, first class books which give you lots more information on this design, and can be purchased on this website.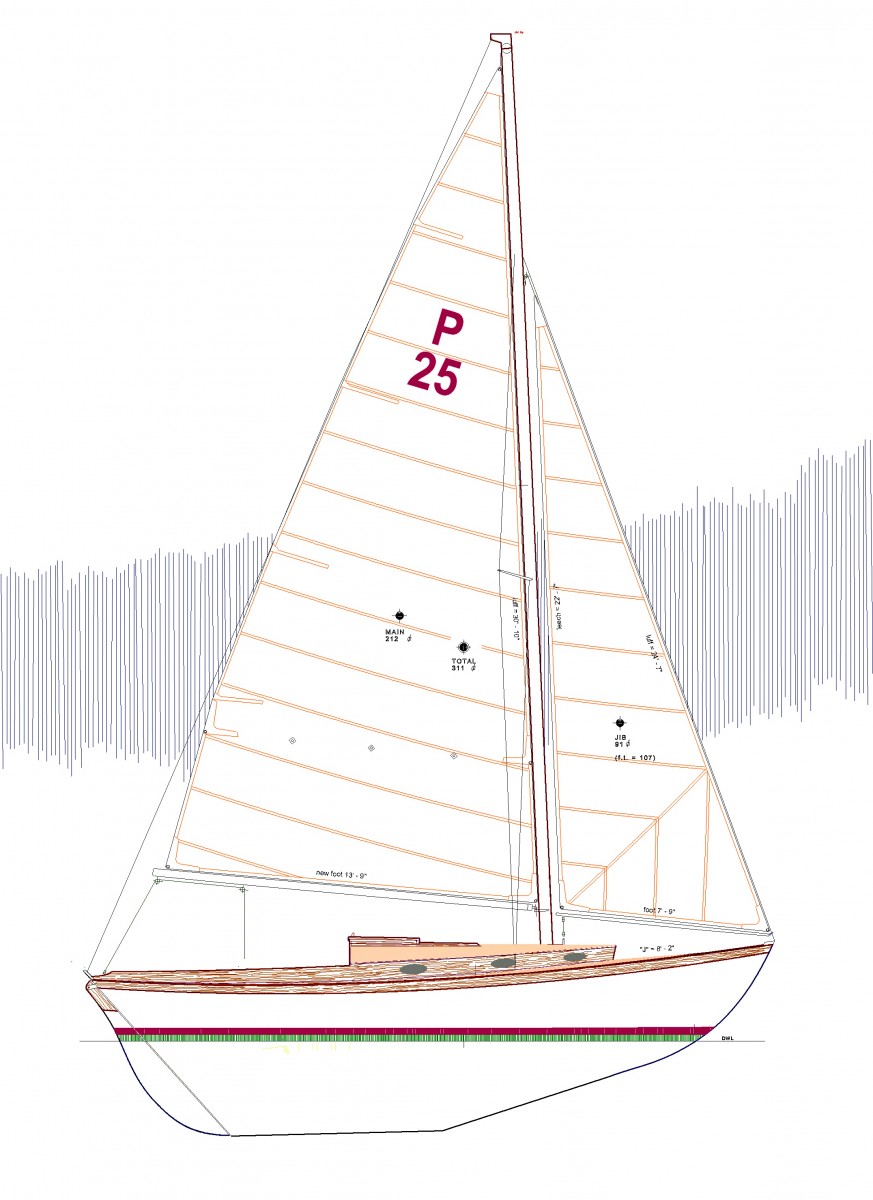 An amazingly swift performer in light airs, but with her new carbon fiber mast, equally capable in a blow.