Download Our Brochures:
Introduction
We have put together this website for those who may be curious about the workings of our highly active yacht design studio - one of the largest and most prestigious in the world. It illustrates some of our more recent work, including yachts recently launched and designs in progress for launching in the near future, as well as some notable milestones from the past. Our office is pleased to offer a wide variety of naval architectural work, from custom design of long range motoryachts, conventional and jet powered planing craft, and sailing yachts. We also are happy to undertake repowering, keel and rig redesign, refit management and contract drafting. Our present workload consists primarily of stylish POWERBOATS, while we continue to design lovely moderate displacement voyagers of CLASSIC DESIGN, and our BERMUDA SERIES of high speed offshore sailing yachts.

Browsing Tip:
Click on a small picture to see it at a larger size.


Chuck's Philosophy on Yacht Ownership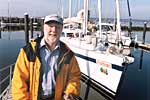 There are many reasons to own a yacht, and you would not be reading this website unless you aspired, soon or someday, to own a brand new, high performance floating home which is capable of taking you anywhere your heart may lead you in safety, style and just a bit of luxury. With waterfront homes now costing in the multis of millions, you recognize the wisdom of owning a home which embodies your whole lifetime's accumulation of ideas and wishes, with the added advantage that when you tire of the neighbors, you can simply up anchor and move on. Many of our clients are accomplished amateur yacht designers themselves, lacking only the necessary time to put it all down on paper. Others know of our reputation and put their trust in us to devise a yacht that they will cherish as a beloved family member until the end of their days. In either case an exciting new yacht is a fitting reward for the efforts of a highly successful career and it is our appointed mission, as yacht architects, to make sure that we elicit, refine and accurately engineer YOUR ideas and present to you upon its launch a yacht that is uniquely yours.
Yachts that evolve from my studio are individually crafted and aesthetically superior objects which integrate themselves for a far greater duration into the lives of their owners than the standard boat-show offerings. The custom designed yacht is valuable above all as an embodiment of what is called ART. Like a fine painting or sculpture it cannot be mass produced, and its value is not defined in units of currency but in the priceless rarity of any object which can be created but once by skilled human beings through the collaboration of the designer with a caring and tasteful patron.
What a yacht is about - especially a brand new one - is the pursuit of quality time on the highest plane. It enables - perhaps owing to its not inconsiderable cost forces, its owner to cut the lines that bind the conventional life. He leaves in his wake the cares of career, geopolitical unrest, schedule, family, and financial gain. He enters a world where the clouds are still white, where money is valueless as there is nowhere to spend it, where gunpowder has yet to be invented, where terrorism is unheard of. He is reliant upon only himself and the soundness of his ship for survival. Every breath is sweet and clean. He is alive!
To those who value the freedom of life at sea as the most generous of God's many gifts, we enthusiastically solicit your patronage.
Chuck Paine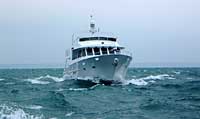 Chuck Paine Motoryachts are among the most aesthetically pleasing of this increasingly popular breed.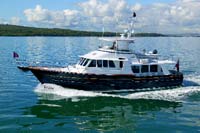 The lovely double ended sloop FRANCES, Chuck Paine's first design. Over 100 of these seaworthy pocket cruisers have been built.