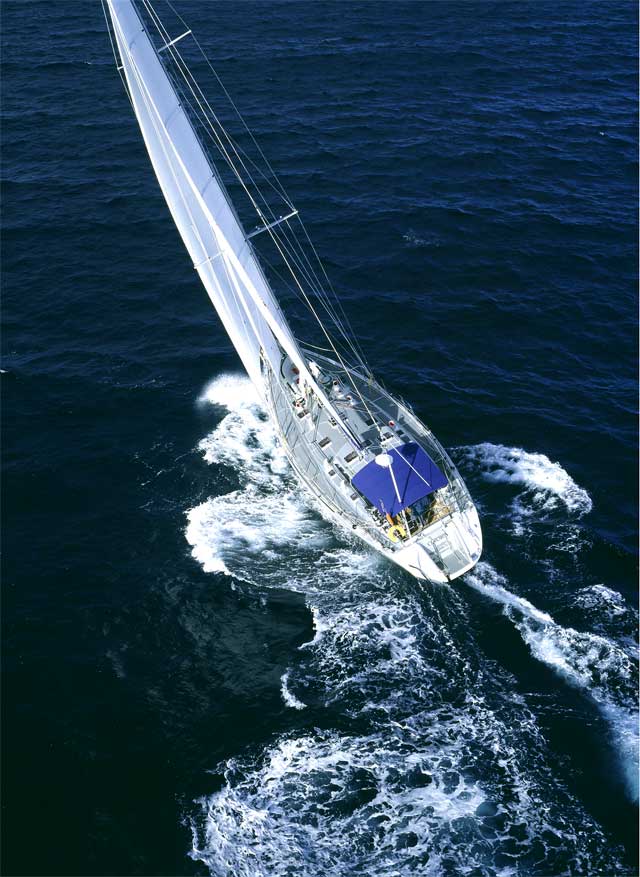 C. W. Paine Yacht Design Inc. has been a leading American sailing yacht design firm since 1974 and today is one of the world's most prestigious design names. Their early series of small oceangoing yachts with ladies' names (Frances, Leigh, Sarah, etc.) were the springboard from which over one thousand of the world's swiftest and most luxurious sailing yachts have evolved.
MORRIS YACHTS
Morris Yachts of Maine have built over 175 of the world's highest quality yachts to Paine designs. These yachts are unusually well designed and constructed, expensive, and worth every penny.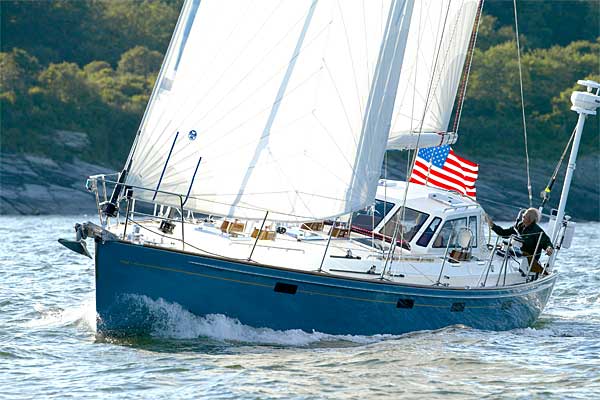 THE BRITISH CONNECTION
The Paine office was the designer of seven of Britain's most popular designs, from which over 400 fine yachts have been built.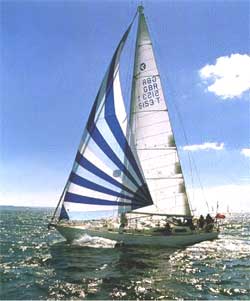 BOWMAN 48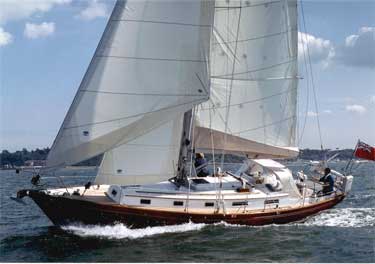 VICTORIA 38
THE PAINE KEEL
Chuck Paine invented the PAINE KEEL in 1981. It combines a very low center of gravity with minimal propensity to sideslip. What does it do for a yacht? Just look at the stability and pointing angle and speed through the water of the leadoff yacht in this article!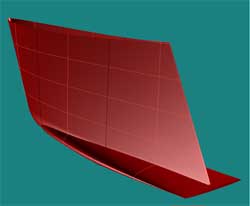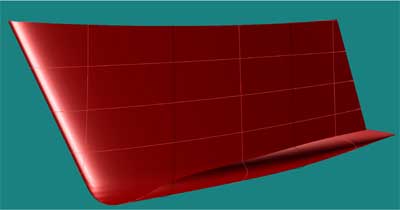 "Chuck Paine's "Bermuda Series" are aimed at shorthanded, long distance cruising at very high speeds. Their hulls have very long waterlines and are unusually stable, and are fitted with watertight bulkheads so as to be virtually unsinkable.
THE BERMUDA SERIES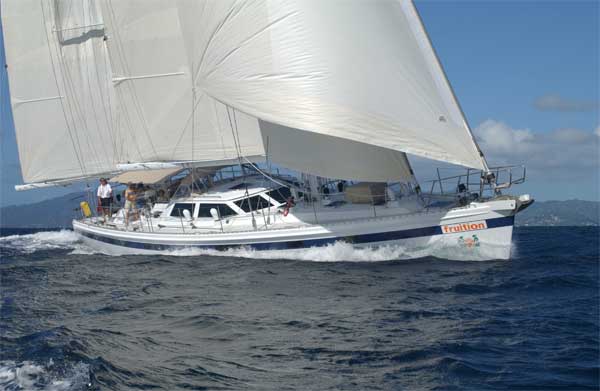 Bermuda Series designs emphasize safety, minimal heeling, private bathrooms with unlimited fresh water, and other luxuries. Naval architecture is a branch of "real" architecture and that involves interior design. The Paine designers have created some of the most splendid interiors ever contorted to fit into the hull of a yacht. Paine designed yachts today have all the comforts and luxuries of a waterfront home.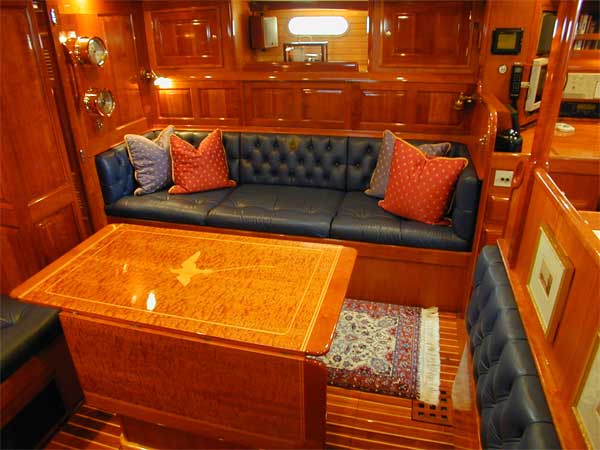 PERFECTING THE PILOTHOUSE
The Paine office concentrates on the transition area between the deck and interior. With the support of scores of clients, Paine and Co. have explored just about every possible shelter (hard dodger, pilothouse, porch- call it what you will) twixt cockpit and belowdecks. Paine Yacht Design reliably creates appealing transitions between out- and indoors with minimal impact upon the cabins below while maintaining absolute structural integrity.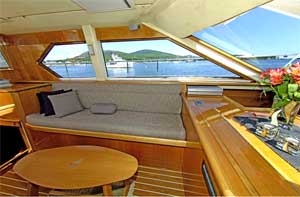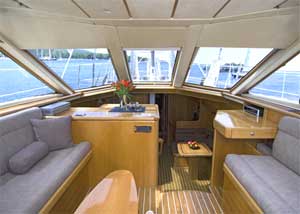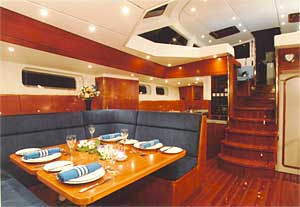 THE PILOTHOUSE FLOWS SEAMLESSLY INTO THE LOWER SALON.
PILOTHOUSE PROVIDES SHELTER FROM WIND SPRAY AND SUN.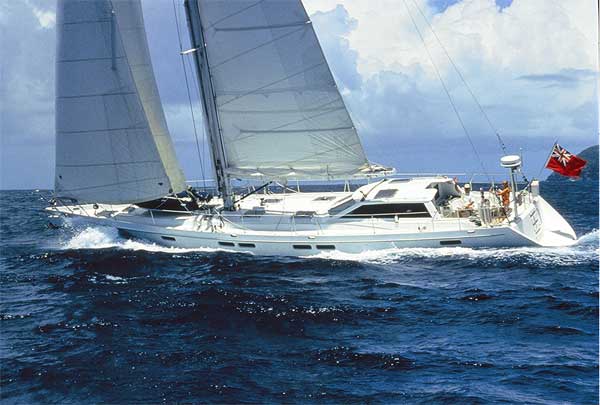 EVOLUTION is one of the early Bermuda Series yachts, built in Holland of aluminum. Her pilothouse contains a watch-stander's berth, autopilot controls, radar and a complete navigation/ communication complex and the sail controls come to winches and line bins beneath those (what shall we call them?) porches? aft of the pilothouse. There's a floodlight overhead in each porch to make sense of it all at night. With Otto the Pilot steering most of the time and all of the reefing lines brought to this area through conduits, you can pretty much cross an ocean without ever donning the foul weather gear. You go outside and steer manually when it's gorgeous, like this.
Magnificent Yachts
The office grew in reputation and skilled engineers were added to keep up with demand. Large yachts like the 125 ft. MANDALAY require hundreds of drawings and thousands of hours of engineering to design in a timely fashion. With four highly experienced full-time designers and one office manager, Paine & Co. now undertakes designs up to 150 feet in length.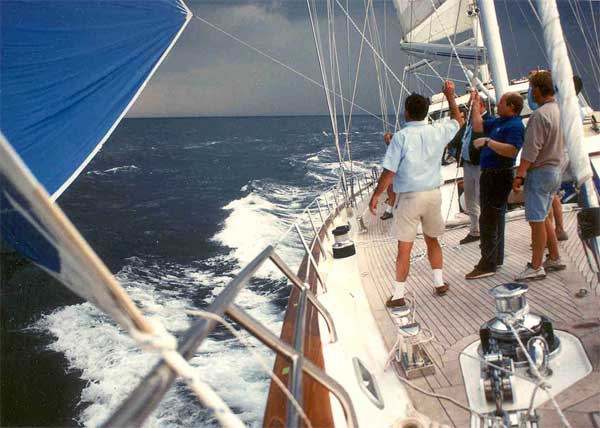 The greening of Paine's yachts
Global warming, the environmental movement and the ozone hole inspired Paine customers. Not only were they attracted to the office because Paine's refined hulls clearly required less fuel to push through the water under power, but as more and more luxuries became standard fare aboard yachts its engineers responded to the energy trapped in wind and sun as an appropriate way to power a yacht. Protection from the sun also became an integral part of the package.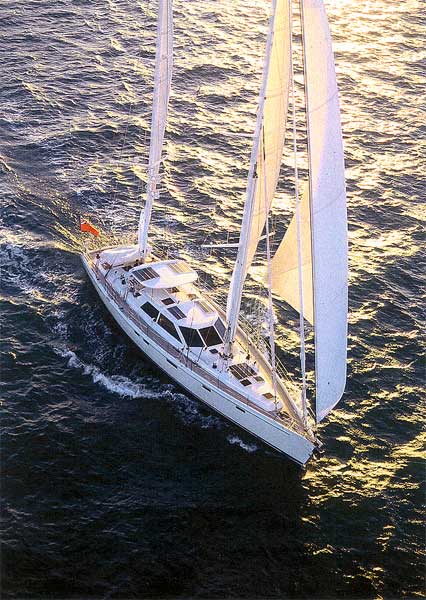 Solving the Dinghy Problem
The dinghy is an important aspect of life afloat. Paine has done whole designs that revolve around housing the dinghy. One Australian built aluminium 63 footer has a "beach" in place of an afterdeck, up which the dinghy is power-winched over rollers as you would haul it onto a boat trailer. The 65 footer below demonstrates how the hydraulically powered radarch makes launching and retrieval a pushbutton process.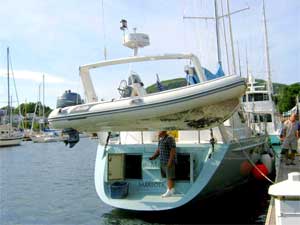 TE MANA. WITH ITS DINGHY READY TO LAUNCH.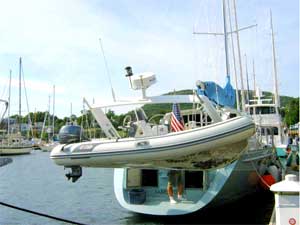 PUSH THE BUTTON AND IN SHE GOES.
Racing Yachts
Increasingly, Chuck Paine's sailboat lines became known for their seakindly manners and speed. It awaited the IMS, where hulls and appendages were measured by magic wand, and a bit of the old competitive spirit, for his yachts to begin collecting silverware. As cruiser/racers with their draft restrictions, none had the knifeblade keel with a torpedo slung at the bottom that are a necessity in Grande Prix racing. But given offwind courses like the Bermuda Race, Transatlantic, Transpac and most of the other truly fun races, the poor fellow with his ten foot draft and a handicap rating to go with it often found himself outclassed by Paine designs that looked like yachts and sailed with crews whose names the owners actually knew. Clients sought out the office for Racer/Cruisers as opposed to Cruiser/Racers.
The first of these was REINDEER V, followed by FIREFLY, POPPAEA, NEXT BOAT, ERICA and untold others that will be winning races for generations.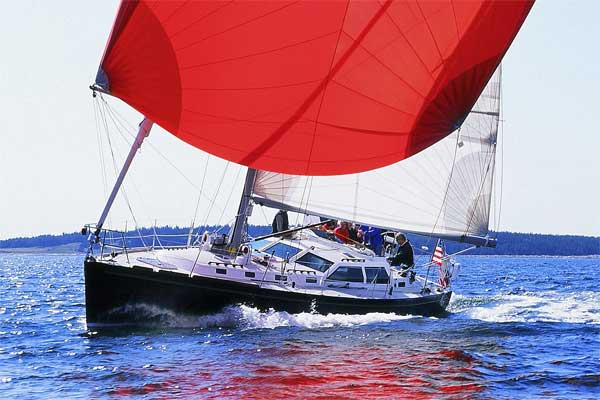 What the Paine office added to the concept of the racing machine was longevity. Add a few pounds of carbon fiber in the right places and racing sailboats can last for decades. Today's pure racers are throwaway boats, obsolete and abandoned by their owners after a couple of seasons. What a waste! Paine yachts not only begin their lives in the winners' circle, but they keep winning races, year after year.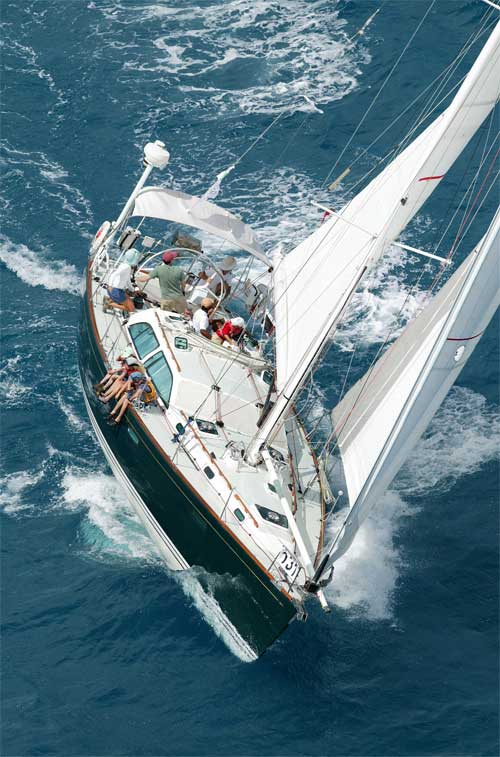 The Paine racers are designed simply to go fast through the water, rule be damned, and to last a long, long time. At the point when the expensive throwaway is put out of business by the latest rule change, Paine's racing yachts acquire an old age allowance and a set of new sails and are right back at the front of the fleet.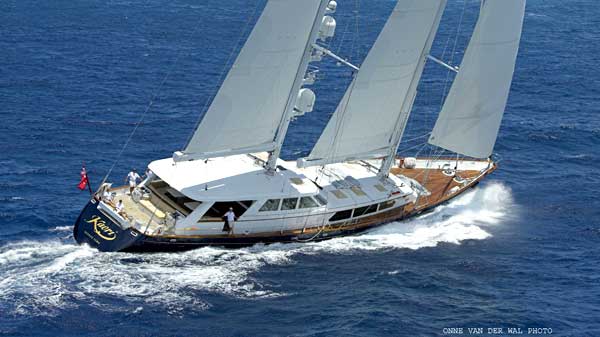 Spirit of Tradition Class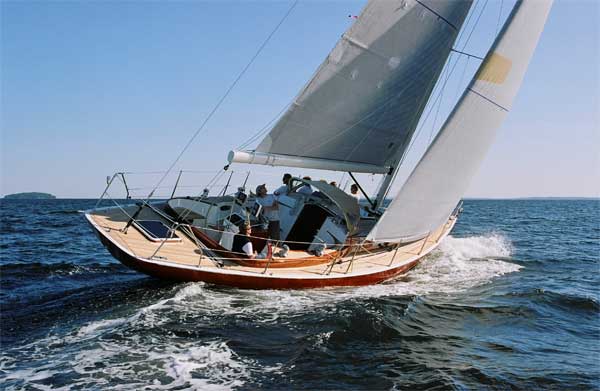 The "Spirit of Tradition" class of wooden racers has become a forum for design trends at the Eggemoggin Reach Regatta on the Gulf of Maine and worldwide. For owners discouraged by cutthroat racing in yachts that depreciate to nil value in the twinkling of an eye this is the clear alternative. Even if you're not doing well in the racing you get to see visions of beauty like this sail by you pointing high and footing fast and you think, that man has done the world a good turn.
Unlike your common stripped-out racing machine, you down your celebratory beers in a Sitka spruce lined interior of light weight and unrestrained elegance thinking, the world is full of fools, and I am clearly not one of them.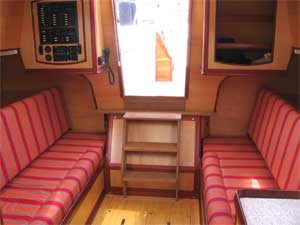 designing for comfort afloat
Fine food and wine are part of the modern living aboard experience. Gone are tiny iceboxes and smelly stoves and toilets that spit back at you. Attention to every detail of your individual preferences will yield a galley that, while always yacht-like, offers all of the modern conveniences of a fine home.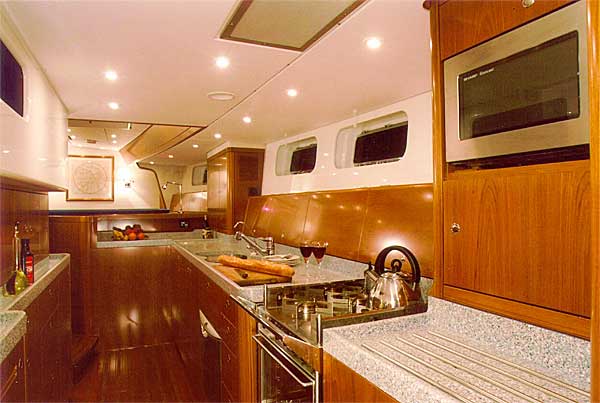 C'mon. Show off a bit. You've got that heady combination of money and taste and love of life that counsels you to spend your rare spare time on the water. Sure you can live out your life up in that corner office worrying about when your investments will rack up the next million (or the next big loss). Far better, hire the lads at Paine Yacht Design to exercise their expertise on your behalf, and become the owner of something truly wonderful, like this…..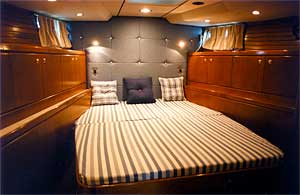 62' AUSTRALIAN ONE-OFF WHIMBREL FORECABIN.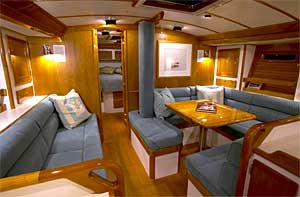 51' MORRIS HOMEFREE MAIN SALON.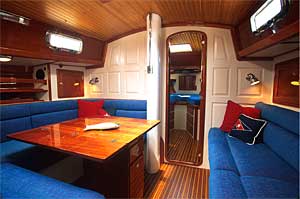 MORRIS 46 MAIN SALON.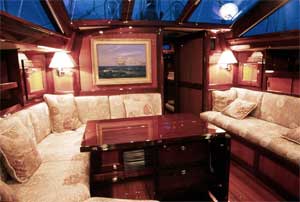 52' MORRIS FAR OUT MAIN SALON.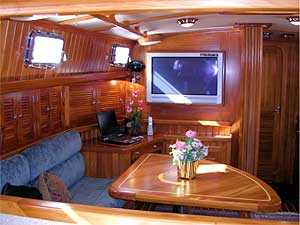 56' CABO RICO MADRINA MAIN SALON. 50'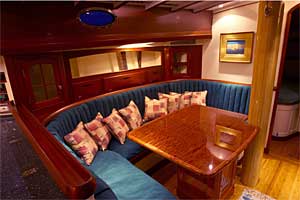 FRENCH & WEBB WINGS OF GRACE MAIN SALON.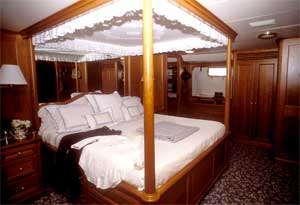 125' MANDALAY OWNERS' SUITE. 80'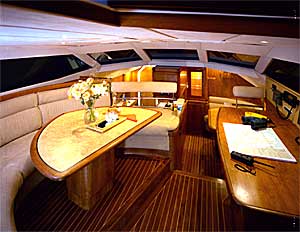 FRUITION PILOTHOUSE.
Boat of the Year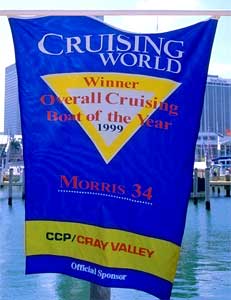 Cruising World Magazine selects the best new sailing yachts every year. Since its inception, Paine Yacht Design has won more of these awards than all of the other New England and New York yacht design firms combined. Find out why- have your new yacht designed by the most celebrated design firm in America.
Predicting the future
What does the future hold at Paine Yacht Design? More of the same, thinks Chuck. Larger and even more luxurious homes untethered from the earth and free to wander.
Other trends- what else does the future hold?
HIGH LATITUDE CRUISERS. Think you've seen it all? Clients are now building ice-strengthened aluminum yachts packed with four inches of insulation and thermo pane windows and high powered heaters and exploring places last seen by Captain Cook in the 1700's. There's another world to be explored in the high latitudes, given the right yacht.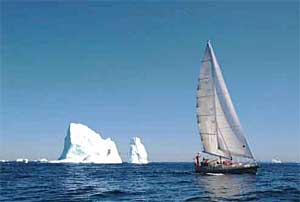 HAMISH AND KATE LAIRD'S SEAL.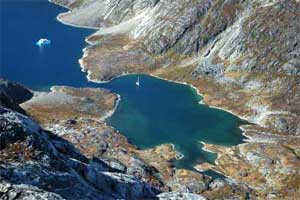 SEAL, ANCHORED IN SOME WILD AND BEAUTIFUL UNNAMED COVE. THERE'S ROOM FOR YOURS.
YACHTS FOR THE "THIRD WORLD". China and India have discovered the virtues of hard work and capitalism. But they've got no yachts. Entrepreneurs have stepped in to solve that problem with the aid of Paine Yacht Design. Most of these yachts will go to the hundreds of millionaires being created each new workday in Chindia. But you can get one too if you're willing to be patient- they don't build them fast in China.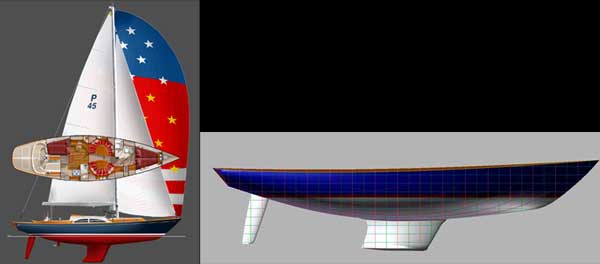 SPIRIT OF TRADITION RACERS. It's may not be particularly wise to buy some stripped-out machine and try to win races every precious weekend against sailing rock stars, then have to throw the thing away because of a minor revision of a handicap formula. There's a new type of racing that's honestly as much fun as you had twenty years ago. It's called "Spirit of Tradition Class" racing and to do it, you hire Chuck Paine to design a sailing work of art that goes to windward nearly as well as that torture rack and will still be bringing you a great deal of fun in a decade's time.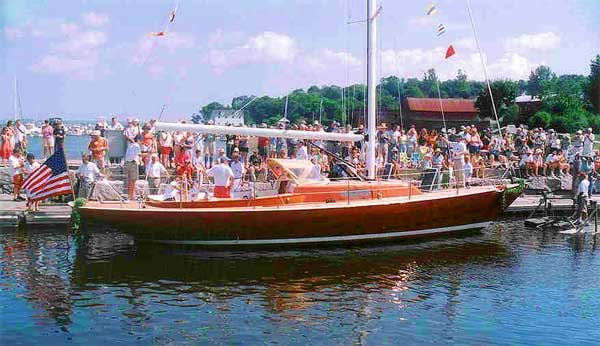 HISTORICAL REPLICAS. There were some fine yachts designed in the last century. If their builders had had the materials we have today they would still be around bringing joy to their owners. But we do have those materials today, and Chuck Paine's office relishes the opportunity to honor the work of design genius gone before.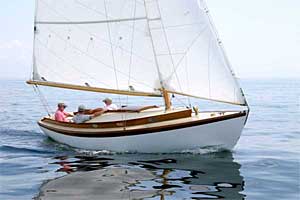 25' HERRESHOFF REPLICA PENTIMENTO.
50' ALDEN REPLICA WINGS OF GRACE.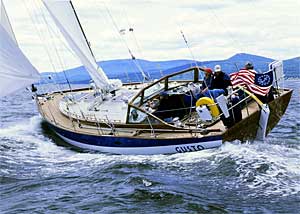 44' CROCKER REPLICA GUSTO.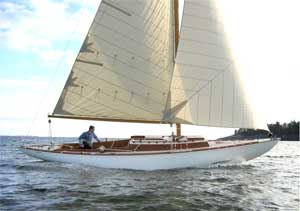 34' FIFE REPLICA AMORE.
Special editions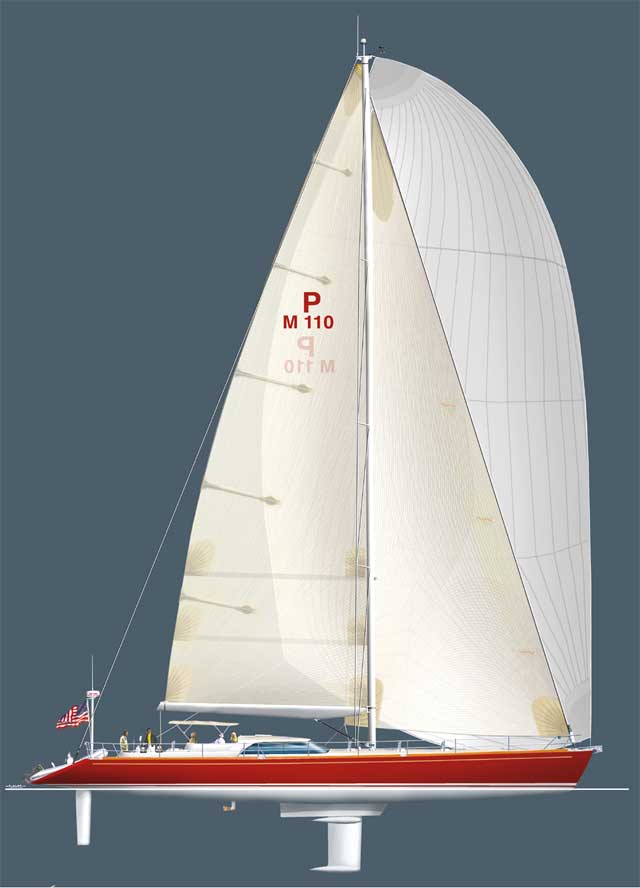 Meridian 110
Chuck Paine's Meridian series are the culmination of his long career designing some of the fastest and most visually stimulating custom sailing yachts ever built. These are no-holds-barred, cost is no object high performance epoxy/carbon speedsters for the man who simply must have the very best. Named for the first high performance sailing yacht in the legendary Paine portfolio, the Meridian 110 celebrates twenty years and over 60 individual designs aimed at crossing oceans at excitingly high speeds in true sybaritic comfort. She and her larger and smaller sisterships represent nothing less than the finest sailing designs ever offered to the world's financially capable yachtsman.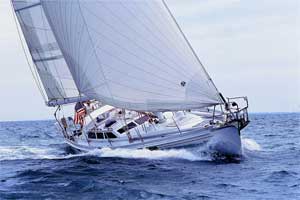 MERIDIAN, THE LITTLE 45 FOOTER THAT LAUNCHED PAINE TO THE FOREFRONT OF HIGH SPEED SAILBOAT DESIGN.
The Meridian 110 offers the following features, which simply have never been combined elsewhere on a single yacht.
Light displacement with a D/L of 100.
SA/D of 25.
Carbon fiber hull, deck, mast, boom, rudder and keel.
Retractable keel and rudder for extremely shoal draft when needed.
"Roller Ramp" dinghy storage aft.
Fully air conditioned and heated accommodations.
"Command Module" in pilothouse with gimbaled Captain's berth alongside.
Backstay supported rig for security.
All sail controls push-button- no open winches.
Mainsail self-stows in Park Avenue type boom.
Non-overlapping jib.
Open walkway to "swimming beach" when dinghy is not there.
Lightweight, "high tech" interior styling.
Watertight collision bulkheads.
Partial water ballast, fresh water.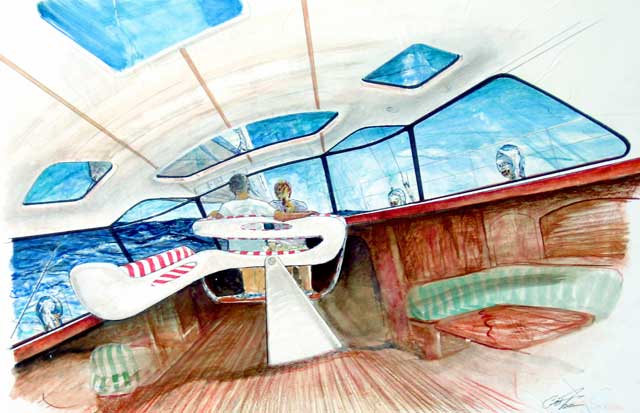 THE GIMBALLED COMMAND MODULE IS JUST ONE OF THE FEATURES OF THIS GROUNDBREAKING DESIGN. IT HAS A STEERING HELM AND A "GLASS COCKPIT" WITH RADAR AND CHART PLOTTER SIMILAR TO THAT ON YOUR CIRRUS.

THE INVENTIVE "SOLARDODGER" PROTECTS GUESTS FROM SUN AND SPRAY, WHILE CHARGING THE BATTERIES.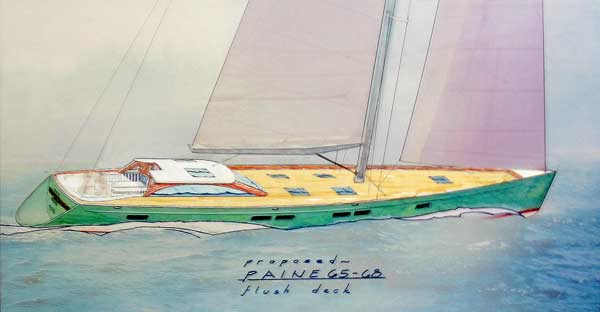 This attractive concept was one of several proposed for a customer who eventually moved away from the flush deck to a design with a long, low cabin. We feel that the current series of European flush deckers promoted by Wally and others, while exciting to look at, are a bit stark. The addition of the relatively easily maintained varnished teak elements shown will make our "Meridian 68" one of the most lovely sailing yachts ever built. More Info
The Staff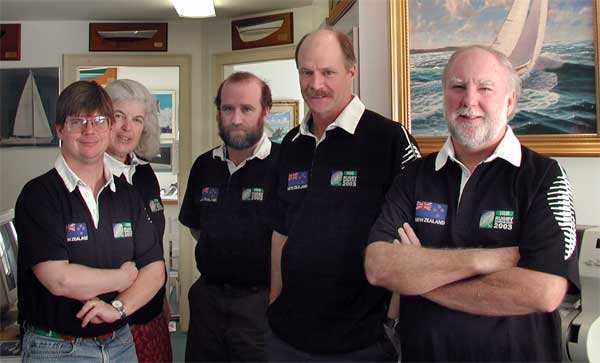 Chuck Paine and the staff at Paine Yacht Design would like to thank you for taking time to read this short history of their efforts. They would love to hear from you when you are ready to build a fine new yacht that will add a page to the history of yachting.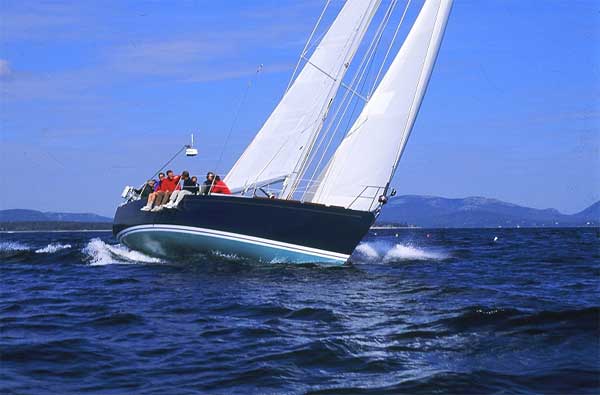 Happy Sailing!
When you're ready, contact us:
Phone: 207-236-2166
E-Mail: info@chuckpaine.com