CHUCK PAINE
Chuck has been designing yachts professionally since 1972 and to date there are approximately 1000 yachts afloat which have evolved from his hand. They range from his first design, the simple but beautiful 26 foot FRANCES to the enormously complex and elegant motorsailer MANDALAY. Chuck is a talented artist with a discerning eye for yachts of all types, power and sail, traditional and modern. His instinctual talents combine with a degree in engineering from Brown University to insure that designs completed under his letterhead are conceived with a careful eye to the aesthetics yet engineered with numerical exactitude. His expertise in the process of bringing beautiful yachts into being is celebrated regularly in his writings in YACHTING MAGAZINE, YACHTING WORLD and other nautical publications.
The office has for many years involved a team of designers rather than being a "one man show". Chuck's primary duty is to instill in each design a personality that can be distinguished by cogniscienti as uniquely a Paine design. All personnel in the studio have a say in the initial styling of each design, with Chuck steering and influencing the end result. His eye is the filter through which the many design studies and proposals are passed; and it is upon him that the duty falls to strike the delicate balance between acceding to the client's every whim or gently informing him with the necessary authority, that his pet idea might be one which he might eventually come to regret.
Chuck's training as an engineer can be said to constrain every design, for none is completed until all of the weights are accurately summed on lengthy spreadsheets, and all aspects of construction are thoroughly engineered to examine stress paths so as to "put the material where it does the most good". He is a true conservative when it comes to engineering, insisting that any yacht which acquires the Paine pedigree will be around to serve its master many years hence.
MARK FITZGERALD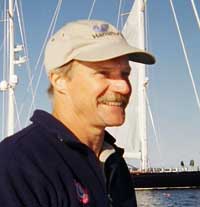 Mark Fitzgerald has been designing yachts professionally since 1977. He came to the Paine office after a five year apprenticeship with Jack Hargrave, the dean of American motor yacht design. With this training came extensive experience with the aluminum yacht construction that makes up more than half of the present workload. Mark's unflappable personality enables him to understand and manage the larger, long term design projects that require both skill and stamina. His years of design experience coupled with actual hands-on construction of some twenty boats results in drawings that reflect the practical needs of the builder. He is intimately familiar with the office's propeller sizing and related propusion software, as well as all other aspects of the PYD design protocol.
Mark has now been with the office since 1988. In addition to his CADD capabilities, He is a fine manual draftsman and loftsman, rare skills in the computer age. Mark has the same instinctive eye for powerboat hulls that Chuck possesses for sailboats, and is the guiding influence on the shaping of all such designs that emerge from the office. During Chuck's frequent absences on sales and inspection trips, Mark is the fellow to speak with, for he is conversant with all aspects of current design projects.
When not designing yachts, Mark can be found tending Hereford cattle and horses on his "Floridaze" farm in Thomaston. Email Mark at mark@chuckpaine.com
ED JOY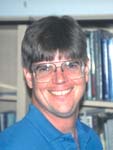 Ed Joy came to us from Savannah, Georgia in 1997 to head up the rapidly expanding computer aided design department. In the internet age, more and more of our work is forwarded to owners and yacht yards electronically, which requires someone with a good deal of experience operating and managing CAD systems. Ed's work in the design departments of Windship Trident, Sparcraft, Palmer Johnson Savannah, and Intermarine has enabled him to fill this role as well as provide valuable input into the manufacturing aspect of each design.

Building on the talent that drew Chuck's attention as the winner of Yachting magazine's 1993 sailboat design contest, Ed has managed and produced the great bulk of the design work for most of the notable sailing yacht projects that have come from the Paine office in recent years. In addition to his understanding of what makes a sailing yacht perform well, he has been an integral part of creating our reputation for designing well proportioned boats that achieve their owners' purposes with maximum beauty and grace.

In his off duty hours Ed can be found with his wife, Amy, restoring an 1890 Victorian house in Warren.
DEBBY WHEELOCK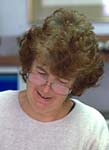 Debby is our key administrator and although she works part time, hers is often the friendly voice that answers the phone. Her overriding duty is to keep the project logistics organized so our service is always efficient and personal. Debby keeps very accurate track of the manhours expended on each design, so that when efficiencies are discovered, these will translate into an ability to keep our hourly fees at the irreducible minimum. Our billing, payroll, plan submittals, inquiry responses and desktop publishing all come from her desk. Debby arrived in the office nearly computer illiterate, but in the heat of battle she has developed into a staunch devotee of Windows, Office and Quickbooks.
In her private life, Debby is Chuck's wife and mother of Nicholas Paine, aged 23.
LLOYD BRACY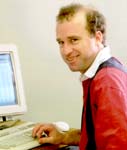 LLOYD BRACY began with Paine Yacht Design in 1997. He uses his hand drafting and CAD drafting as a skilled member of the Paine design team.
Lloyd came to Paine Yacht Design with a great deal of experience sailing on commercial vessels and yachts. Commercial experiences include lobster fishing, bluefin tuna fishing and tug boats. Experiences on yachts include numerous deliveries on power and sailing yachts as well as crewing on classic sailing yachts, the J-boat Endeavour and Herreshoff's Ticonderoga. Lloyd, who is also a graduate of Maine Maritime Academy, is a U.S.C.G. licensed captain for sail and power.
E-Mail Lloyd at lloyd@chuckpaine.com
ART PAINE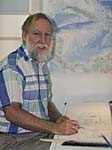 How can one explain the coincidence that this man was given the name Art? Art Paine is, among a studio of artisans who all profess to be artists, the greatest among equals. The majority of color artwork that emerges from the studio is done by Art. Like all fine artists, his talent in paint and pencil and pastel cannot be attributed to any formal training, and those around him contend that he was born with a pencil in his hand. His degree in fine art from University of Rhode Island merely put sheepskin to a talent that was fully developed in his teens and can probably not be taught. How do you teach a hand to move in such a delightful way?
The premium yacht design field has come to require a highly skilled artist on call. Art is the one whom we call upon whenever color perspectives are required. From the very beginning of each project, the clients are presented with preliminary renderings of their dream yachts in perspective view, planing along on sunlit days in full color. Often in the search for the perfect stern (meaning the one that the client considers perfect, of course), design studies of some ten or more different variations will be prepared for him to decide between, and it will be Art who will do these, usually with a buxom nude at the helm, her flaxen hair streaming.