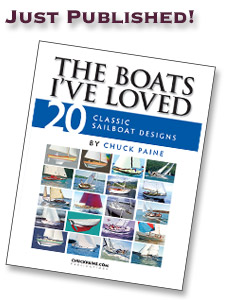 My latest book, featuring twenty of my best classic cruising sailboats, plus three other "boats I've loved" by S&S and Herreshoff. Available as a colorful, large format softcover book of very high quality from my website or Amazon.com, or as a digital download, meaning you can have it IN ONE MINUTE!
My new book singles out the 20 best of my classic sailing designs, and is full of ideas about buying one of my older designs, refitting it, and setting sail. Or, if you can afford it, building a brand new one at a local boatyard. 106 pages of interesting stories, great ideas, sage advice, and beautiful color photos of my very best. Go back to the home page, click on the book, buy it for a paltry $9.95 in digital form, or $23.50 as an actual hold-it-in-your -hands book including free delivery, and you'll have an hour or so of wicked fun and come back to it again and again.
If you can possibly live without your smartphone, this book could change your life!
Happy reading.
Chuck Paine