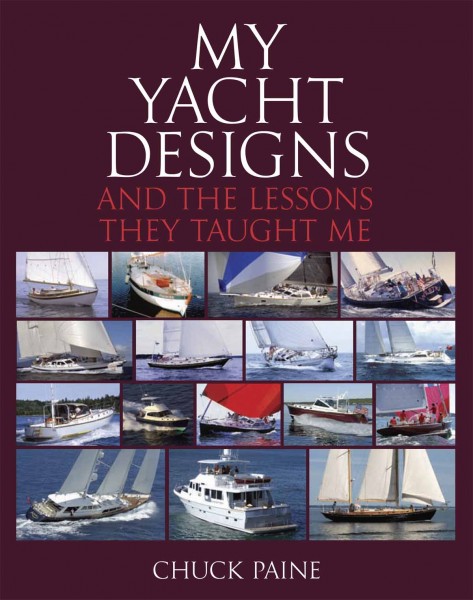 I wrote and produced MY YACHT DESIGNS and the Lessons they taught me a few years ago and it was a sellout hit.  There are no more copies available for purchase, except as used books on Amazon.com where the prices range from $436.00 to $966.50! Apparently people like this book that much!
The cost of reprinting is so prohibitive that I have decided against it. Yes, there is demand but not enough for the minimum print run that would cost a fortune. And the day of paper books is behind us now.
Fortunately, there is another option: reading the book on your computer or tablet. So here is the opportunity to purchase the book at a much-reduced price. Once you download it you can return to it whenever you like, or even print any chapters that particularly interest you.
In producing this digital version I have completely re- Photoshopped the many lovely pictures and expanded the captions, plus added eight pages of stunning new photos! The original book consumed nearly four pounds of wood products and toxic color inks plus the carbon required to ship it to you, which took over a week. In downloading your own digital copy you merely move some weightless electrons around, doing your part in saving the earth. Please accept the fact that a very few of the black and white drawings'  lines may not show up perfectly on your monitor or tablet, because it has 72 pixels per square inch versus the 300 in the print version. The photos come through absolutely stunning!
A fascinating history of a world-famous yacht design office.
Lavishly illustrated with hundreds of dazzling full color photographs of some of the most beautiful yachts ever designed.
298 pages.
Designs in both sail and power.
Packed with valuable lessons that will shortcut any would-be designer's path to success.
Presented in pdf format so it reads just like a printed book, with both left and right pages visible. You do not need a proprietary device (Kindle, Nook) to read it- just the computer you're using now.
Because of this format, you can print any part or the whole book on your own printer.
You can zoom in and out to make the page easily readable.
See the unsolicited reactions below- everyone who has bought this book loves it!
Many people told me the original hardcover book was grossly underpriced at $59.95 plus $6.05 for shipping. You can have it now for one-third the original price, and no charge for shipping!
Instant gratification- the download takes about a minute.
Recently updated to illustrate fascinating new designs.
If you'd like a sample of what the book offers, click here for a PDF of the table of contents and beginning of the first chapter.

My Yacht Designs
and the lessons they taught me
By Chuck Paine
PDF edition: $19.95
---
SOME REACTIONS TO "MY YACHT DESIGNS"
Unsolicited reactions from some readers:
I just read your introduction in Yachting and both cried and laughed. Some years back, my wife and I talked with you about Meridian. We have always loved your designs. T.W.
---
Your books arrived yesterday and I spent most of last night reading after dinner. I'm one of those that reads and doesn't look at pictures — I don't even turn the pages to look ahead at pictures, as that's cheating.
Very nicely done book, funny in parts, sensitive and warm in others, and full of wisdom throughout. It's obvious from your book that you love your creations, are passionate about the quest for quality, derive immense enjoyment from what you do and have great respect for the people who worked with you.
Bottom line is your book exceeded my expectations, which were high — KUDOS!
P.S.
---
Chuck, Your book is beautifully laid out, with fantastic photographs. I hope my Dad will be thrilled with the book, and your comments. P.T.
---
A marvelous story, engagingly narrated with good humor and that great joy of being on the water. Bravo!
A fine book, written with at least some of the "I wish I had's" that too many autobiographers overlook. W. T.
---
What a great pleasure to receive your magnum opus. I have found the sections on your early life- both personal and professional- especially rewarding, as well as your reflections on the future of yacht design and construction.
At any rate, I just want to add my congratulations to the rising tide of kudos washing your way. The book is stunning in every respect, and will be treasured by your friends and admirers. J. C.
---
The book is absolutely gorgeous – well done! J. S.
---
The book arrived yesterday and it is FANTASTIC! J. F.
---
Really, it's an absolute pleasure to read. Often books like this lean to the technical/Socratic (Bob Perry's book — while excellent — does that); yours is just very honest, and it compliments and pays tribute to so many others. Really nice. P. S.
---
Just writing to let you know how much I enjoyed your book! I was impressed by how varied your designs were – from traditional to very modern – and all of them beautifully executed. For a person with a long term interest in yacht design this book was a pure pleasure. R. S.
---
Your books are excellent but quite heavy, I think. It really is a beautiful book. P. C.
---
I really like this book it gives me insite into chucks designs.
the photographs of the boats alone are worth the price of admission.
two thumbs up plus. Fred
---
Congratulations on a great book. Still as cheap as ever, I ordered your book from Inter-library Loan. After reading it thoroughly, I then bought it from your website!
Reading the combination of the designs themselves, together with their objectives, together with your thoughts and methods, together with the narrative of your development of a design practice in late 20th century — extraordinary. It's a book to own, not just to browse.
For what it's worth, I've sent a review to the Ocean Cruising Club.
All best from Beth and me,
-Gary
---
Just received copy of your book. Very impressive, I am very happy
to have ordered it.
Congratulations for a fine career and a positive attitude to life. Dr. M. G.
---
Just finished reading My Yacht Designs cover to cover. Great book! Thanks for the nice inscription and a nice treat to see the photo of you sailing Nester Dinghy. When I first learned the book was self published, my expectations weren't that high. Most such don't really make the grade. Yours did and then some. Beautiful design, informative, and exceptionally beautiful boats.
Do I have a gripe? Sure. Being the gearhead I am, I would have loved 3, 4 maybe 5 times as many detail drawings–construction, machinery, rigging details, etc. But then, the book would have been 3, 4, 5 times as long and as expensive. Hey, you can't have everything . . .
Cheers,
Dave
---
The more I read your book, (over and over) the more I learn. It really is the best book on yacht design I've ever read. I hope you're selling a ton! T. C.
---
I thought your book was extremely well done. I read it cover to cover and even looked at all the pictures. I cannot think of any way you could have improved it. I expected no less from someone who has spent their career focusing on detail and perfection. D. G.
---
Your book is terrific.  K. H.