The PAINE 15 is a slightly scaled-down adaptation of the venerable and much-loved Herreshoff 12 ½ with a fin keel and separate rudder for significantly more lively performance. She is available in beautifully detailed hand-built WEST epoxy cold-molded wood construction from French & Webb boatbuilders of Belfast, Maine. Two of the boats are on order and will be built this coming winter, and based upon the interest so far, more orders are certainly likely. She is a floating work of art built by hard-to-find artisans who value the quality of your new yacht above everything, as anyone with any intelligence can easily discern.
The PAINE 15 is optimized for trailering behind a standard-sized automobile, and is easily owner launched, owner retrieved, and home-stowable. Her carbon fiber mast requires no stays and weighs with its halyards a mere 24 pounds, so it is as easy to deploy as that on a Laser dinghy. Easier, actually, as the sail need not be attached before stepping the mast, and the mast is merely rotated up into position, Iwo-Jima style. The sails are attached to the spars very quickly using Velcro straps… no tedious fitting of little slides to little tracks, so the boat can be launched and gotten going in a matter of minutes.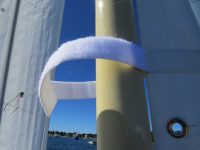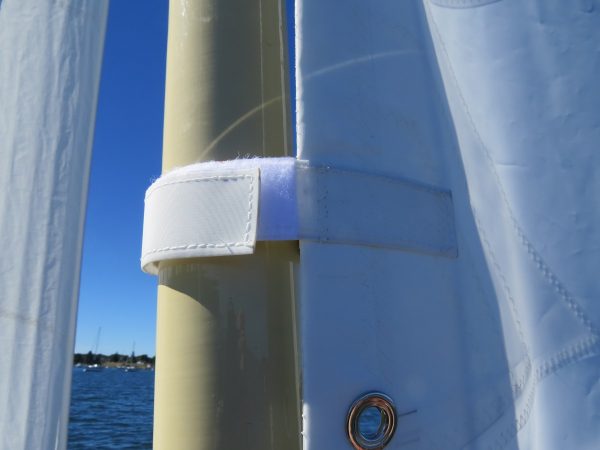 STRAP OPEN                                                                                  STRAP CLOSED
RIGGED STANDARD WITH "PAINE DVT" ROLLER- REEFING, SELF- VANGING SYSTEM!
The PAINE 15 is the second yacht fitted with the PAINE DVT jib-vanging system. Until now all jibs, and jibs set on jib-booms especially, had the annoying habit of losing effectiveness as the jibsheet is paid out. The jib clew would rise, rather than rotate around the headstay as one would prefer. When this happens the lower part of the jib is overtrimmed and stalls, while the upper part is let out too much and loses all its drive.
The PAINE DVT invention consists of a series of fiberglass battens, fitted parallel to the luff, and extending from the leech to the foot of the sail. These battens both stiffen the leech of the sail as do other battens, but in extending to the foot of the sail prevent it from rising.  (Note some other photos in this website show the older, conventional jib).
Make no bones about it, though, inidividually hand-built by the few remaining American craftsmen with nearly half of its weight in cast lead ballast and lots of beautifully varnished teak trim, this is in every respect, including its construction cost and the need for yearly maintenance, a true yacht. But you don't need a mooring or a marina slip with this one, just a garage, boat deck, or boathouse. Her cruising grounds are anywhere you might like to sail that has a launching ramp.
A TRAILERABLE MINI-YACHT
In a single phrase, the PAINE 15 is "A TRAILERABLE MINI-YACHT."  The yacht is light enough to be easily trailed behind a moderate sized automobile—no truck or SUV or surge brakes are required. Or of course it can live on your mooring or boat hoist, or in a slip. A custom-fitted galvanized trailer with integral tongue-extender makes launching and retrieving a snap. The carbon fiber mast requires no stays and is simply swung up into place just as is done on the original H12, excepting that the rigging-less carbon fiber mast weighs one third as much! She is virtually impossible to capsize, and easy to sail mile after mile without athletic ability. You sit "in" her, not "on" her, and there is no need for "hiking out"—you sit on bench seats with properly angled seatbacks (coamings) at just the right height. In enough wind, of course, she could be swamped but has forward and aft flotation tanks to keep her afloat. And in the off-season she fits right into your garage where you can perform the yearly maintenance yourself at near negligible expense, and proudly show her off to your dinner-guests.
Two of the yachts are sold, at a price of approximately $65,000 with the standard, extremely high, specification and with sails included. The custom TRIAD galvanized trailers cost $3500 delivered to Maine.
This design is featured in my recent book; THE BOATS I'VE LOVED- 20 Classic Sailboat Designs by Chuck Paine. This is a beautiful, full colored, first class book which give you lots more information on this design, and can be purchased on this website. It's fun reading, and will teach you a lot about small boats of very high quality. I have devoted my career to yachts of the highest quality, and this is one of the best of them.