The PAINE 15 fits neatly amid Chuck Paine's growing fleet of elegant, hand-built in America, keel sailboats for the no-longer athletic sailor. Like his recent larger and smaller designs she is styled to honor her famous predecessor, the Herreshoff 12 ½. But with her fin keel and carbon fiber mast and separate, partially balanced rudder she is much faster and a lot more fun to sail. Just as Nat Herreshoff would surely have done today, she has a completely seamless, leakproof and unsinkable hull built of lightweight but super strong epoxy cold molded construction. She is available now from French & Webb boatbuilders of Belfast, Maine. The first of the boats are on order and will be built this winter, and based upon the interest so far there will be significant waiting times for subsequent yachts, so an early decision will be rewarded. The day of mass-produced Chinese consumer crap masquerading as yachts is over. The PAINE 15 is a floating work of art built by hard-working and hard-to-find American craftsmen who value the quality of your new yacht above all else, as anyone with any intelligence can easily discern from the accompanying drawings.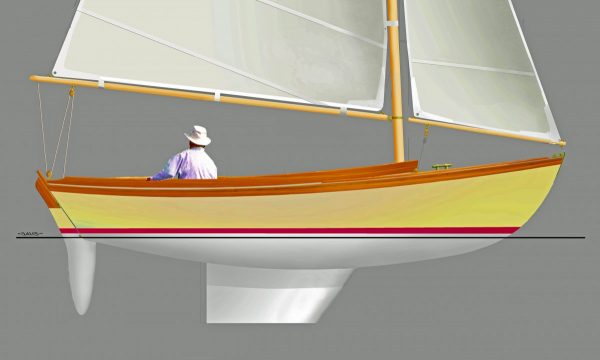 The PAINE 15 is a yacht you will once again actually use.  Just as you used and loved every summer weekend the Blue Jay or Lightning or Snipe or… (insert here) … that you absolutely cherished before the boat salemen convinced you you'd be sailing off to Tahiti in your dotage. Many of us ( including Chuck Paine) have owned a succession of ever larger yachts, but have discovered over time that they required ever greater available time to make use of, crews that were impossible to find, and rapidly inflating yearly expense for marina slips, insurance, maintenance and worst of all, because nobody wants them anymore, depreciation. The PAINE 15 is exquisitely designed, built and finished. Quite a few folks bought oceangoing yachts thinking they might owing to their size at least impress their neighbors. The reality is that nowadays you are looked at as a fool if you own a white-elephant that sits unused and fading all summer in a marina slip sucking money out of your pocket. Once you come to your senses and own your PAINE 15 your wisdom will be rewarded every time you go sailing, when virtually every person you encounter on the water goes out of his way to come over and shout…"What a beautiful boat!"

The PAINE 15 is in every possible way optimized for trailering behind a standard-sized automobile. Her carbon fiber mast requires no stays and weighs with its halyards a mere 22 pounds, so it is as easy to deploy as that on a Laser dinghy. Easier, actually, as the sail need not be attached before stepping the mast, and is simply swung up into its Herreshoff-type mast ring, Iwo-Jima style. We have invented a nifty way using Velcro straps to attach the mainsail to the mast very quickly… no tedious fitting of little slides to little tracks, so the boat can be launched and gotten going in a matter of minutes.
This boat's construction and finish are in a word, exquisite. So it is far from cheap to build, though it will retain its value far better than any boat you have ever owned before and might easily rise in value owing to its rarity and waiting times for acquisition.
It is very stable thanks to its lead keel, and you get your choice of trim- painted if you are concerned about maintenance in the tropics, or either teak or mahogany trim, beautifully varnished, at extra cost. Once it is yours, the yearly costs of ownership are minimal, as the maintenance consists of a coat of fresh bottom paint every year, which you could if you wished apply yourself in a weekend. You don't need a mooring or a marina slip with this one, just a garage, boat deck, or boat lift. You are not limited to one area for your sailing, because she is so easily trailered, launched and hauled.
In a single phrase, the PAINE 15 is "A TRAILERABLE MINI-YACHT."  At 1000 pounds the yacht is light enough to be trailed behind the moderate sized automobile that you already own—no truck or SUV nor surge brakes are required. Or of course it can live on your mooring or boat hoist, or in a marina slip. A custom-fitted highest quality galvanized trailer with integral tongue-extender that has been designed and made available makes launching and retrieving a snap. The carbon fiber mast requires no stays and is simply swung up into place just as is done on the original Herreshoff 12 ½, excepting that the rigging-less carbon fiber mast weighs one third as much! She is impossible to capsize, and very difficult to swamp but unsinkable if you do, and easy to sail mile after mile without athletic ability. You sit "in" her, not "on" her, and there is no need for "hiking out"—you sit on bench seats with properly angled seatbacks (coamings) at just the right height. And in the off-season she fits right into your garage where you can perform the yearly maintenance yourself at near negligible expense, and proudly show her off to your dinner-guests.
The rare yachtsman who desires a daysailor of investment quality is finally blessed with a number of clear choices, all with splendid fit and finish (and commensurate pricetags, which will be soon forgotten as they inflate in value). The available fleet until the introduction of the Paine 15 consisted of the Paine 14, Herreshoff and Doughdish 12 1/2, York 18 and Pisces 21.  The Paine 15 fills the obvious gap between the Paine 14 and the H12/Doughdish. Given her modern underbody, although she falls halfway between the Paine 14 and Herreshoff 12 ½  in size, she will be the equal and more of the H12 in performance.
More information about the boat, from its builder's perspective, may be found by clicking here: http://frenchwebb.com/boats-for-sale/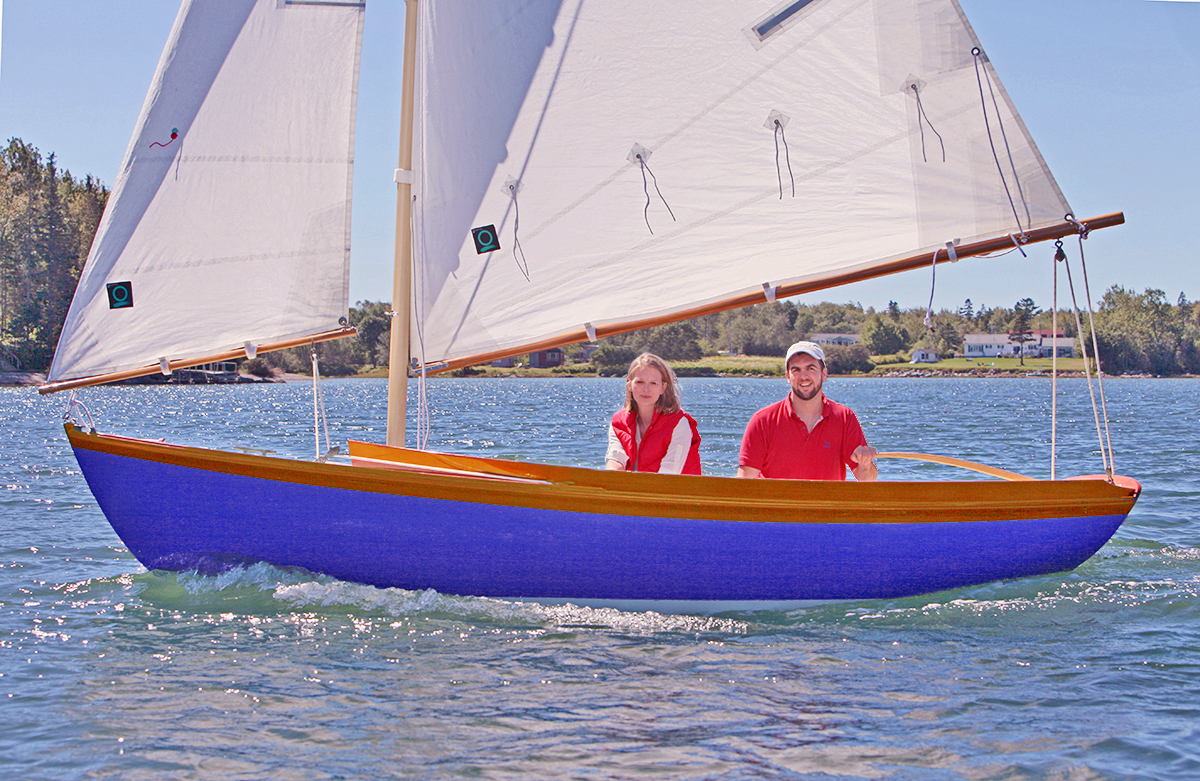 This design is featured in my recent book; THE BOATS I'VE LOVED- 20 Classic Sailboat Designs by Chuck Paine. This is a beautiful, full colored, first-class book which give you lots more information on this design, and can be purchased elsewhere on this website. It's fun reading, and will teach you a lot about small boats of very high quality which are, and have always been, my stock in trade.