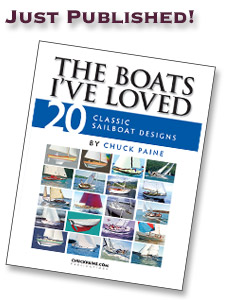 You'll love my newest book! Available either as a print book, mailed to you, or a digital download.
For a printed book, you may purchase below or from Amazon.com. For the digital download, purchase below.
No powerboats, no million-dollar showoff yachts, just my selection of the twenty best of my sailboat designs, plus three by other great designers, some of which YOU could actually afford to own.
Everybody knows and loves FRANCES, ANNIE, LEIGH, CAROL, and so many of the wholesome designs I did later on in my career like PENTIMENTO, JUSTINE and BELLA LUNA.  And my popular British boats like the VICTORIA 26, 30 and 34, and the BOWMAN 40. And many of these yachts are now for sale on the brokerage market for prices common folks can afford. I've added a few brand new designs you have never seen, but only small ones that you might want to build in a year or so. And lots of great advice on what to look for in a twenty- or more- years old boat. I've even been brutally candid about any flaws in my designs that have emerged with the passage of time.
This lavishly illustrated 106-page book is available now. If a printed book is not needed and you want to read it yourself, for a price of $9.95 you can be reading this wonderful new book RIGHT NOW!  Click below for either version- you won't be disappointed.
The twenty very best sailboat designs ever created from a world-famous yacht design office.
Lavishly illustrated with hundreds of dazzling full color photographs of some of the most beautiful yachts ever designed.
106 pages.
Sailboat designs only- no stinkpots, no megayachts.
Packed with insight into what's good and candidly what's bad about every design.
Includes fascinating new designs you have never seen before.
DIGITAL DOWNLOAD VERSION:
Presented in pdf format so it reads just like a printed book, with both left and right pages visible. You do not need a proprietary device (Kindle, Nook) to read it- just the computer you're using right now.
Because of this format, you can print any part or the whole book on your own printer.
You can zoom in and out to make the page easily readable.
My first digital book, MY YACHT DESIGNS and the lessons they taught me, was an incredible bargain at $19.95. This one is an even better bargain, at $9.95. And no charge for shipping!
Instant gratification- the download takes less than a minute.