HERRESHOFF 12½ DERIVATIVE
YORK 18
DIMENSIONS
LOA : 18' 1"
LWL: 14' 7"
BEAM: 6′ 3"
DRAFT: 2' 9"
DISPLACEMENT: 1535 lb
BALLAST (LEAD): 695 lb
SAIL AREA: 150 sq ft
D/L RATIO: 233
The YORK 18 is the newest in our growing series of elegant, sensibly sized daysailors. Her design was inspired by the instant popularity of the smaller and highly regarded PAINE 14. But being much larger, she can take a whole bunch of your friends sailing in comfort and speed, and in the safety of an unsinkable hull with exquisite sailing characteristics.
Michael York of York Custom Yachts in Rockland, Maine, is building these supremely high quality 18-foot Herreshoff-inspired sailing yachts in fiberglass with extensive varnished teak trim. The first of these fine new yachts will be available in September of next year. These high performance keelboats are classy, valuable, fast, unsinkable, trailerable and owner- launchable, and just the right size to take home and store for the winter, avoiding the bother and expense of a boatyard. The draft is only 2′ – 9″ so you can launch and retrieve her yourself, if you wish, or stow her on a boat-lift if you live on a lake or a canal in Florida, or want to carry her on the boat-deck of your motoryacht.
York Marine of Rockland, Maine, is convinced of the merits of Chuck Paine's vision of traditional, Herreshoff 12 1/2 styled topsides combined with a fully modern moderate displacement fin and spade underbody. This line of daysailors is heavily lead-ballasted to be very stable without the need for athletics, and provides a low, secure cockpit with comfortable seatbacks (coamings) so they can be sailed for hour after hour in real comfort. The YORK 18 is a floating work of art built by hard-working and hard-to-find American craftsmen who value the quality of your new yacht above all else, as anyone with any intelligence can easily discern from the accompanying drawings.
THE YORK 18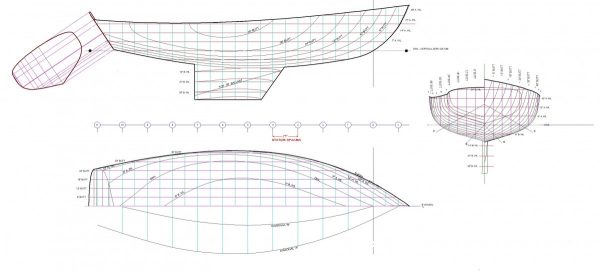 The rare yachtsman who desires a daysailor of investment quality is blessed with a number of clear choices, all with splendid fit and finish (and commensurate pricetags). The available fleet until the introduction of the York 18 consisted of the Paine 14, Paine 15,Herreshoff and Doughdish 12 1/2, and Pisces 21.  The York 18 fills the obvious gap between the 15′-10″ H12/Doughdish and the 21′ Pisces . Given her modern underbody, although she falls halfway between the 12 1/2 and Pisces 21 in size, she will be the equal and more of the larger Pisces in performance.
The York 18 sailplan is supported on a light and strong carbon fiber mast which is tapered for aesthetics and to lower its vcg, and requires no stays. This makes rigging and unrigging the yacht a simple and speedy process, and lowers wind resistance to windward. The mainsail is attached using simple velcro straps, making it quick and easy to get going, one reason why the vessel can be easily trailered to differing sailing venues or easily stowed aboard your motoryacht or boatlift. The boom and jibboom are of beautifully varnished spruce, and the latter makes the yacht entirely self-tending. You can short-tack the York 18 upwind in a narrow channed without ever touching the sheets. The roller-furler makes the jib easy to deploy and stow, and the Paine DVT prevents the jib from losing its effectiveness off the wind.
The yacht is supplied standard with a varnished teak transom, sculpted varnished teak sheer strakes, cockpit coamings, seats and halfround trim to mimic her understandably revered predecessor, the Herreshoff 12 1/2. The photo below of her smaller sibling, the Paine 14, gives you an idea of the unmatched quality that results, and York Custom Yachts' commitment to panache over price.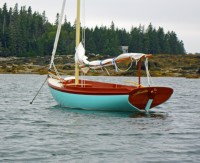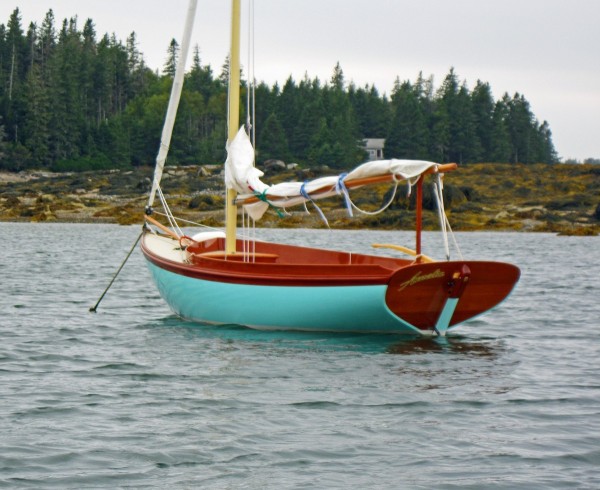 Two of the yachts are on order now for delivery later this year. Your inquiry and early commitment will enable you to take ownership of your very own York 18 in time for the Spring sailing season of 2019.
This design is featured in both of my recent books; MY YACHT DESIGNS and the Lessons they taught me, and THE BOATS I'VE LOVED- 20 Classic Sailboat Designs by Chuck Paine. Both are beautiful, full colored, first class books which give you lots more information on this design, and can be purchased on this website.
York Custom Yachts
11 Gordon Drive
Rockland, Maine 04841
For more information click here:
http://yorkcustomyachts.com/york-18-sailboat/mikeyork@midcoast.com