Saturday, June 25th, 2011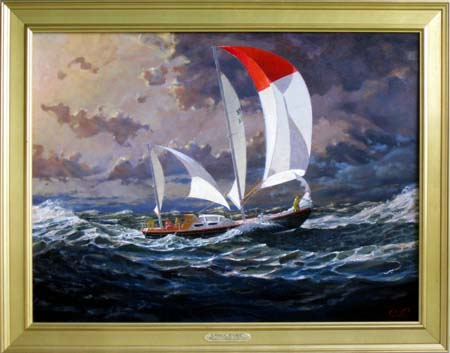 Shown is the most ambitious painting I have ever attempted… THE NIGHT WE LOST THE RED-TOP. It's a large (30" x 40") oil painted from memory of one of the most unforgettable moments in my life. I celebrated my graduation from college by spending the summer of 1966 living aboard BURGOO, a 37-foot ocean racing yacht. We sailed her from Newport to Bermuda where we started the Transatlantic Ocean Race bound for Copenhagen. One evening 1000 miles from the nearest land the wind came on to blow and we made the fateful decision to reef the main and press on overnight under our largest spinnaker, expecting the wind would abate after dark. Instead it blew harder and somewhere around midnight we were hit by a blast that spun us into the wind and hove her down with the spreaders under water. In the pitch black we called "all hands" and spent a very uncomfortable hour slashing away up to our waists in the cold Atlantic to try to relieve the strain of a huge sail full of tons of water. By morning our beautiful nylon number one spinnaker was no more, but we were upright and once again on our way towards Europe.
You can view this and my other most recent paintings at Ocean View Grange in Martinsville, Maine between July 15 and July 17 from 10 to 6.